Dealing with employee turnover is a difficult cycle for any company to manage. Establishing a solidified group of employees can be a tough task, especially with the constant notion of having to recycle your internal core.
As a whole, there are ways of getting around this. Dealing with employee turnover is something that every company deals with. However, planning ahead and creating an inviting environment will definitely play a major role in holding on to employees for the long term.
Rule 1: Strategize a Smarter Hire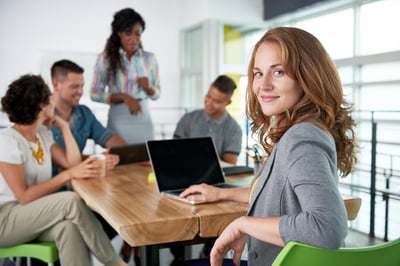 Keeping employees starts with hiring the right employees. Yes, CV are important. However, you shouldn't base all your expectations and aspirations off of a piece of paper alone. Each business has their own business culture.
Understanding, remotely and even at a distance, the potential behaviour of a candidate is very important, especially in the hiring process. If the candidate's behavioural culture is in line with a manager's vision for his company moving forward, then it could be a great fit.
Properly informing your candidate about formal and informal information about the workplace is crucial from the beginning. This will allow them and, more importantly, the management team, to digest and get a better understanding of who your candidate is. Asking behavioural and cultural questions, in a respective light, are quite useful in an interview setting.
Moreover, asking your candidate situational-based questions will give you a better understanding and stronger scope of what a candidate would do in a specific business-like situation. Contrastingly, should you not eliminate a candidate from your employee prospection, they should ideally eliminate themselves as they won't fit in.
Rule 2: Establishing a Strong Employee Benefits program
Compensation is important. Furthermore, from an employee's perspective, being supported by a strong employee benefits program not only encourages length of stay, but also intensity of involvement in work. It is important for employees to feel that they are being properly supported and acknowledged for their professional efforts by being rewarded in their personal life.
They need to cover standard expenses like housing, utilities, and food. And most people want enough money for extras, too. If you don't pay your employees well, they'll find a business that will.
When determining compensation for your employees, it's important to do your research. Having an idea about what makes up a well-organized employee benefits program can be a good role model example for your own company to adopt internally.
Looking towards the successful competitor is always a good idea. By putting value towards smart employee-benefiting management, this will increase loyalty and help your brand image shine forward into success.
Rule 3: Create a career-centered environment
If employees remain stagnate in one job for too long, they might search for another job where they can advance more proficiently. Most employees want to increase their skills and knowledge and move up the career ladder.
Therefore, demonstrating to employees a projected career path gives them a sense of direction and purpose; thus, leading them becoming more loyal and confident members of your company.
Putting a focus on empirical education benefits, higher levels of responsibility, and salary rises can all be a conclusive part of a plan that encourages workers to develop a career with a certain company.
By providing employees with detailed-oriented and growth-driven coaching, this will push employees forward and see them become more heavily involved in the core operations of a company. By investing in and putting faith in your employees, this will create an environment that motivates them to stay longer and dedicate many years of service, maybe even a full career, to you.
All in all, by building a better hiring process, structuring a more benefit-centered employee program, and establishing a more career-centered environment, this will help reduce employee turnover and create a more positive work culture.
Moreover, reducing employee turnover will not only allow a company to develop a stronger core of workers but also advance in developing a better brand image towards continuous success.